EVENT
The 14th Monsoon Meeting
The 14th Monsoon Meeting (INR Complications Meet) will be held this year in Goa from 17th to 20th August, 2017. The venue will Park Hyatt Resort & Spa in Goa.This year we have over 100 registrations, which is the largest number since our inception. Our invited faculty includes Prof. Jacques Moret, Drs. Gyula Gal, Don Frei, BV Ghodke and Mynzhylky Berdikhojayev.
Day 1: August 17, 2017 - Beginning of XIVth Monsoon meeting. Thank you everyone for joining us this year and year after year.
Meeting as usual began with opening remarks , introduction of attendees and 20 polling questions. Salient observations from the polling include maximum observed growth in Acute Stroke interventions in practice; Uniform willingness of the attendees to participate in pooling their data in "Indian Registeries". The 20 polling questions were followed by M&M presentations in Carotid Stenting and Acute Stroke Interventions. The learning points during the discussion were about the red flags of hyperperfusion syndrome in Carotid stenting.

Isolated circulation.
Severe Stenosis
Uncontrolled hypertension
B/L severe carotid disease
Recent infarcts
Usefulness of TCD in predicting hyperperfusion syndromes.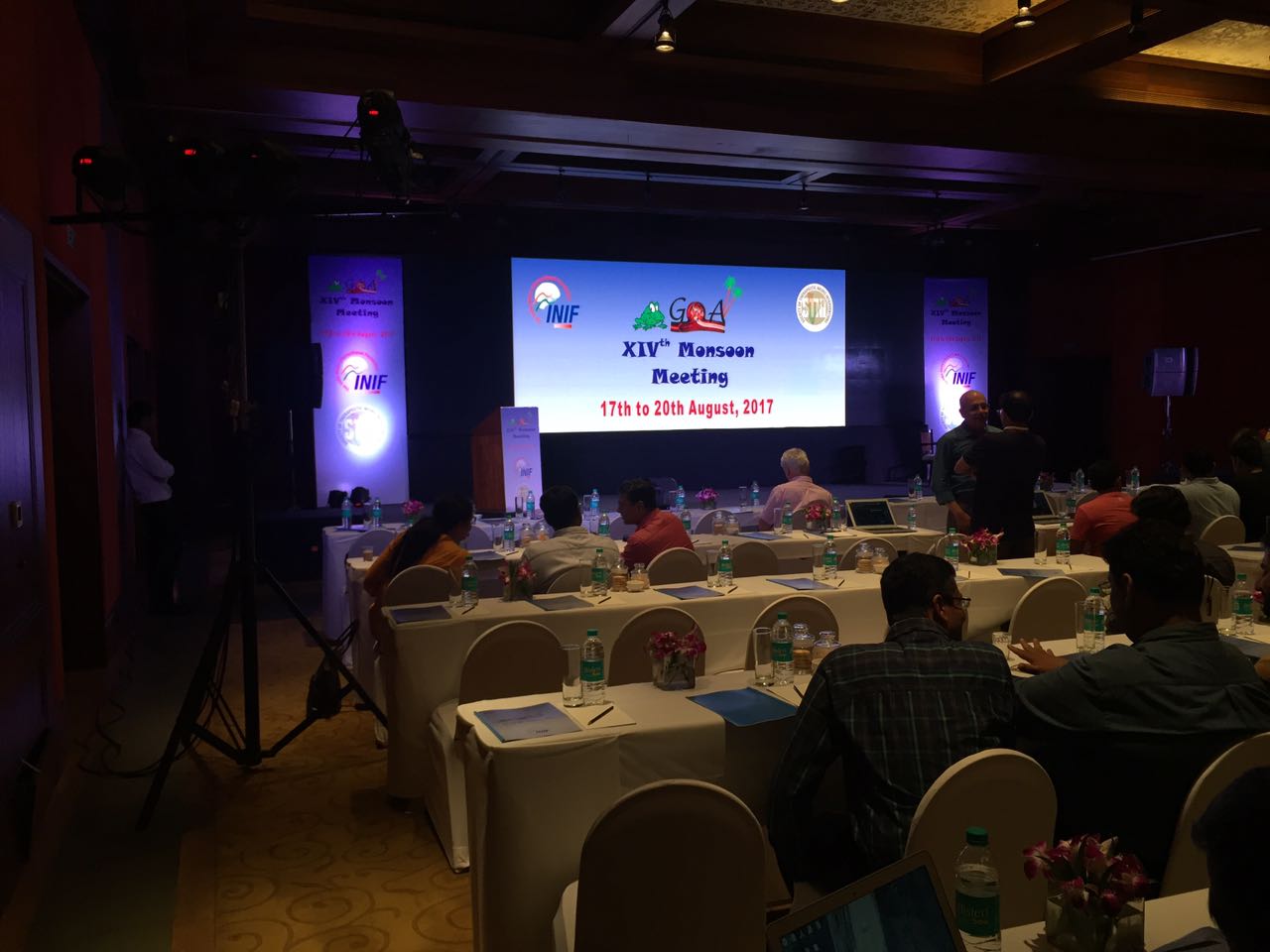 The issue of severe extra and intracranial atherosclerotic narrowing in an acute stroke were discussed. The opinion regarding acutely stenting the stenosed carotid were divided. Intracranially there was a suggestion to use detachable solitaire for severe ICAD in Acute stroke.
The MasterSpeak talks for the Stroke Session were extremely educative.
The learning points were :
To increase the window period of Acute Stroke therapy up to 24 hrs based on Dawn Trial, if the core infarct volume is less than 70 ml. On MR DWI if the inarct volume was less than 25ml , patients could be taken for Mechanical Thrombectomy with good outcome.
Access in tortous anatomy with emphasis on Radial /Brachial approach for posterior circulation and direct Carotid Stick for anterior circulation.
Use of 6F as a guide catheter detaching the valve and attaching a Y connector.
VTK catheter for cannulation and distal placement of large guides in Type II and Type III arches.
Operators were divided in their 1st choice of device in Mechanical Acute Stroke therapy.
Day 2: August 18, 2017 - began with the Malformations and Fistulas session. Learning points for the session included :
Essentiality of venous penetration (transarterial & transvenous approach) for angiographic cure of an AVM.
It is advisable to stage large AVMs with multiple feeders and multiple venous drainage.
Attention to proximal aneurysms and guiding catheter tip while doing distal catheterization of tortous cortical branches.
Interesting technical tips in deep AVM embolization with multiple catheters for pressure cooker technique and proximal balloon control.
DAVF session emphasized the need to safeguard the normal draining veins which are close to the fistula and avoid reflux of liquid embolic agent into them.
It's a strong reason to investigate a patient for underlying syndromes if a patient develops new fistulas after treatment of previous one.
The Aneurysm session had a few important learning points :
All the tools and hardware which may be required to treat a patient should be made available in cath lab prior.
It is important to have adequate dense coiling of aneurysm for good angiographic and clinical outcome.
If the aneurysm during therapeutic angiography is not opacified without any embolic material inside it, almost always implies hemodynamic reasons and not spontaneous thrombosis of aneurysm. Repeat DSA or CTA should be done early to avoid re-rupture.
Braided stents many a times may not open/appose/kink at tight bends; when the aneurysm and arterial sizing are favourable you may consider the newer version of laser cut stents.
There was extensive discussion on newer material and devices .
After a fruitful 2nd academic day the dinner was hosted at Martins.
Day 3: August 19, 2017 - began with continuation of Aneurysm presentations and lead to the hot topic "Flow Diverter" session
All Flow diverters available have their advantages and disadvantages. The choice of device depends on individual experience and choices.
It is definitively safer to put adequate number of coils when treating intradural large aneurysm with FD.
There was a debate FD, reconstructive vs. deconstructive techniques for large and complex aneurysms.
Retrieval techniques for devices including coils, stents FD were enumerated and illustrated. The available hardware in every case should include the retrieval material :

Stent Retrievers
4mm Snare
Microcatheter and wire trapping technique
Combination of above.
The course ended with a vote of thanks and gratitude towards the Faculty, appreciation of all participants and thanking the sponsors.